Keen to reduce your carbon footprint, or just want to save a little money on your energy bills? Either way, there are quite a few things you can do to maximise your home's energy efficiency – benefiting both the planet and your purse strings. 
At Sean Brown Plumbing and Heating, we're incredibly conscious of our own carbon footprint and always aim to provide the most sustainable and green solutions for our customers when it comes to water and central heating services. Read about our top tips for energy efficiency below!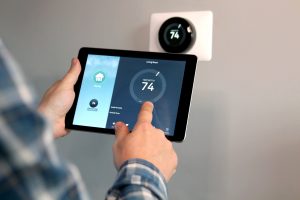 Install a smart thermostat.
Arguably the biggest reason to upgrade to a smart thermostat is for the energy cost savings. With a WiFi thermostat, it's easy to schedule your heating and/or cooling systems to run less while you're out for the day, meaning you use less energy at the same time as increasing your savings.

Not only are they relatively easy to install, you'll also be able to control your thermostat remotely – perfect for if you're planning a winter getaway and you want to ensure your pipes don't freeze over in your absence.
Consider renewable products, such as air source heat pumps and solar thermal systems.
Air source heat pumps absorb heat from the outside air to heat your home and hot water. Whilst they need electricity to run, because they are extracting renewable heat from the environment, the heat output is greater than the electricity input. This makes them a great energy efficient method for heating your home.
Unsure whether these air source heat pumps will work in cooler environments (like Scotland)? Not to worry, these pumps are designed to extract heat even when the air temperatures are as low as -15°C.
Look into more efficient controls. 
Did you know that you could save up to £60 and 310kg of carbon dioxide a year by turning the room thermostat down by just one degree?

And that you could save up to £75 and 320kg of carbon dioxide a year by installing and correctly using a programmer, room thermostat, and thermostatic radiator valves?
Having more efficient controls for your heating and/or cooling systems will help you ensure you aren't wasting any energy in your home.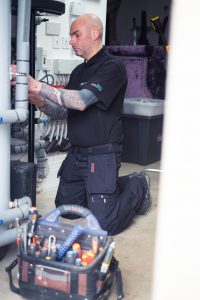 Invest in a high efficiency boiler. 
Whilst investing in a new boiler can sometimes be a pricey investment, it can make the biggest difference to your home, as heating accounts for roughly 55% of your energy bills.
Therefore, upgrading from a G-rated boiler to one with an A-rating can save you around £300 a year. Unsure of which kind of boiler to go for? Get in touch with our team to discuss the options available to you.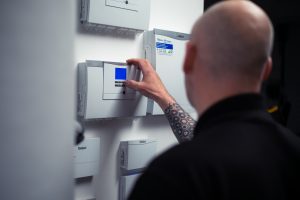 Contact us to learn more. 
If you're looking for a plumbing and heating specialist that is conscious of the environment as well as your own needs and requirements, get in touch with Sean Brown Plumbing and Heating today. 
We have grown to become one of Fife's leading central heating and plumbing specialists with a reputation for being able to carry out all aspects of the installation, repair, and maintenance.